Latest Trips
By: A. H. Kopelman, Ph.D.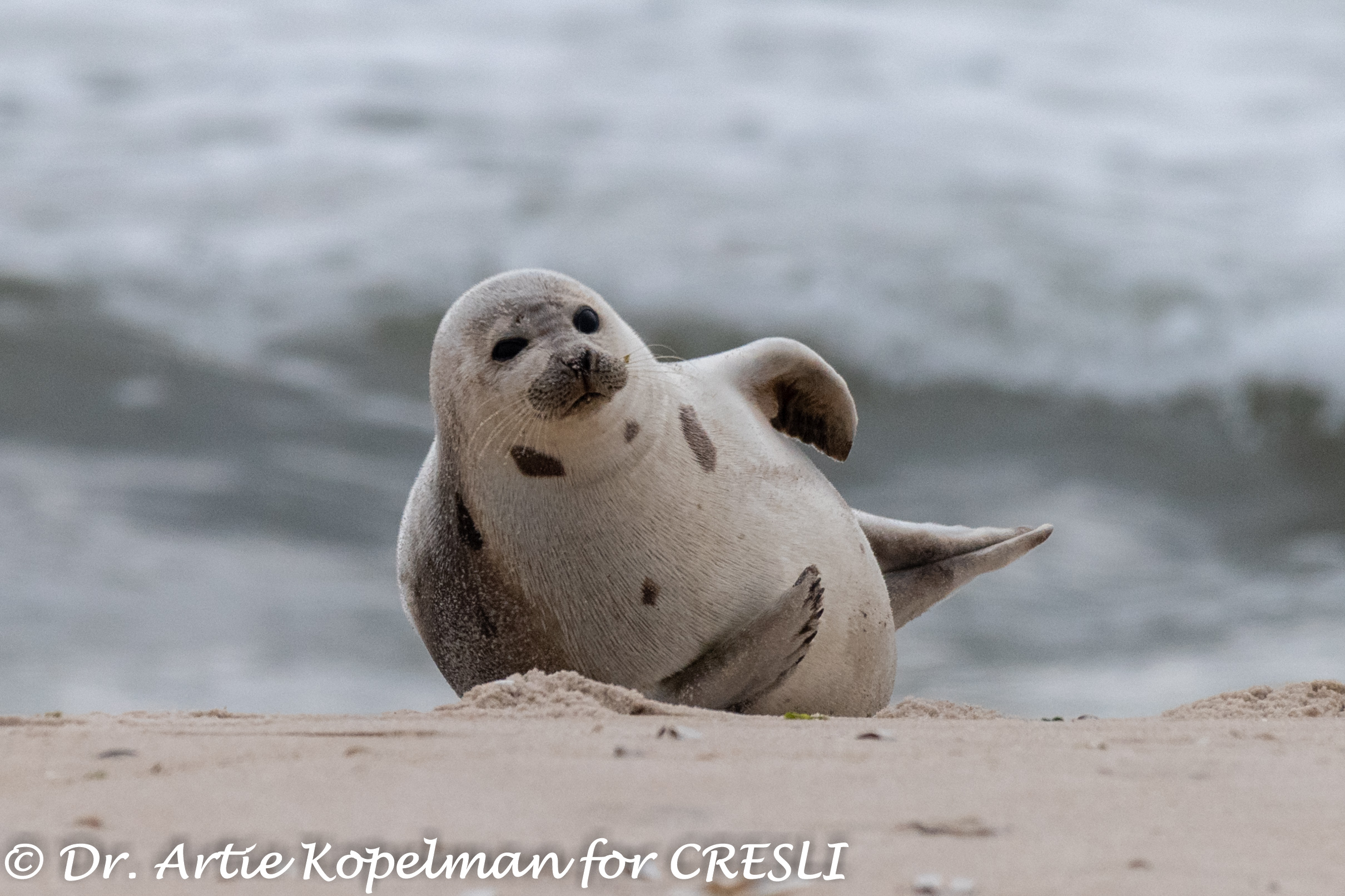 2019-2020 CRESLI Seal Walks at Cupsogue Beach are finished for 2020
Over 24,700 seal encounters at Cupsogue since 2006.
Join us to observe, photograph, and learn about our Long Island's seals.
CRESLI seal walks will take place between November and May. Please note that weather will play a significant role in determining the seal walk schedule. Please call CRESLI at (631) 319-6003 for schedule changes and cancellations. The walks are approximately 1.2 miles round trip and take about 1 to 1.5 hours. These walks are suitable for children.
Please be prepared for the weather, i.e., wear warm clothing in layers. Hats, gloves, warm waterproof shoes are recommended, as are cameras and binoculars. Check the weather for Westhampton Beach and assume that the winds will produce wind chill. It's better to be a more-on, than a less-on, i.e., having more layers than you need is the right thing.
We at CRESLI regret to announce that out of an abundance of caution and prudence, all CRESLI seal walks will be canceled. All folks with reservations will be contacted, all deposits will be refunded. Stay well, stay healthy, help each other and we will get through this.
---
2019-2020 SEAL SIGHTINGS AT CUPSOGUE
Date

Status

Type of trip

Saturday, November 23, 2019

Saturday, December 7, 2019

90 harbor seals hauled-out on main sandbar, including some old-timers back for their 16th year

Sunday, December 8, 2019

70 seals seen at 8:30 AM were spooked off the haulout by a slow moving vessel within 2 minutes. By the time we arrived at 10:00 only about 10 were seen swimming

Monday, December 17, 2019

96 harbor seals hauled-out on main sandbar,

Saturday, December 21, 2019

103 seals were hauled out on the main sandbar during an early monitoring session, but once again had been spooked off the haulout while we were away. When we arrived at 10:00 only 8 hauled out rocks. PHOTOS UNAVAILABLE

Sunday, December 22, 2019

113 harbor seals were hauled out on the main sandbar during our early monitoring session. Unbelievably, yet again, they had been flushed from the haulout by the time we returned 2 hours later.

Surprisingly, we found 30 seals hauled out on a distant sandbar northeast of the usual haulout (secondary haul-out site). With patience, we were ultimately watch 30 additional harbor seals haul back onto the main haulout site!

Tuesday, December 24, 2019

127 harbor seals were hauled out on the main sandbar

Sunday, January 05, 2020

102 harbor seals were hauled out on the main sandbar

Friday, January 10, 2020

25 harbor seals hauled out on their secondary region of the sandbar, utilized when disturbed from the main area

Sunday, January 12, 2020

73 harbor seals (70 on seals were hauled out on the main sandbar and 3 on rocks)

Saturday, January 18, 2020

87 harbor seals (78 on seals were hauled out on the main sandbar and 9 on rocks)

Sunday, January 19, 2020

64 harbor seals (61 on main sandbar and 3 on rocks)

Wednesday, January 22, 2020

137 harbor seals (130 on main sandbar and 7 on rocks)

Prior to a seal walk for the Saxon Middle School of Patchogue, @DrArtieK photographed and took video of 137 harbor seals hauled out (130 on the sandbar and 7 on the rocks) at Cupsogue. With the school group, we stopped at the newer parking area just to get a glimpse of the seals from a distance. We watched in disbelief as an airplane (C-FBKB of Kenn Borek Air Limited) flew over the seals and spooked all into the water. The plane continued to fly over the area repeatedly and we were able to get clear photos to send to the authorities

SEAL WALK FOR SAXTON MIDDLE SCHOOL (PATCHOGUE)

Friday, January 24, 2020

17 harbor seals (12 on rocks and 5 in water)

Prior to this seal monitoring session, @DrArtieK noticed a guy in a wet-suit eastward down the road to the parking with his dog (light colored lab). Dr. K. had a bad feeling that the seals were gone. The man got in his car and drove down to the area where we take people to view seals, he loaded his paddleboard and drove past. Of course the seals were not on the sandbar and about 12 were on the rocks with about another 5 swimming. Dr. K. didn't see him spook the seals, but knew he had done so (he's done it repeatedly).

Harassment is defined by the Marine Mammal Protection Act (MMPA) essentially as any action that causes a marine mammal to significantly alter its behavior. Folks, if you ever see someone purposefully or regularly causing harassment, please try to capture it on video and contact me (ahkopelman@cresli.org). I will share with you the contact information for NOAA Fisheries and NYSDEC Police enforcement agents.

We are so lucky to live in a place where we have 19 species of cetaceans (whales, dolphins, and porpoises) and 5 species of seals (pinnipeds).

Let's share the waters with them in peace.

Sunday, January 26, 2020

105 harbor seals on main sandbar

Sunday, February 02, 2020

157 harbor seals on main sandbar









Join Our Mailing List