Phase One begins This Week!
Tree Pit Expansion soon Underway
April 23, 2017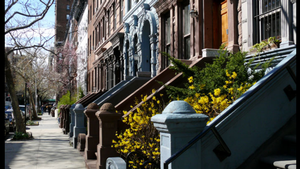 Greetings Neighbors,
At long last we are about to begin execution of Phase One of our tree program.
This phase involves tree pit enlargements through concrete removal and will include two steps:
1) The first step will encompass 7 of the 10 residential trees on the southeastern end of the block (#s 110, 112/4, 116, 120, 124/6, 128/30 and 134/6—the trees and pit enlargements @ #100 are already complete). Cutting will begin this coming week.
2) The second step will encompass several more trees on the northwestern side of the street (#s as yet TBD) with cutting following step (1) above.
At the same time we are well into Phase Two of selecting tree guards where needed for nearly all buildings. Timing depends on getting the new tree pit exact measurements once the pits are resized.
Expansions on the south side will amount to cutting less than 12" off the 3 sides of each pit in order to leave an area of approximately 5' x 7' x 5' around each tree. The purpose of this is to allow more rainwater to get to the tree, while maintaining the City-mandated distance between trees pits and houses.
We intend to introduce more Belgian blocks (aka street pavers) where possible to enlarge the pits as well as minimize large area tree guards. These enlargements will also yield additional planting space wherever possible.
Our resident sculptress on the block is designing medallions for our guards, the designs of which will be coordinated with nearby buildings
As you may recall, although we planted them, all existing trees and sidewalks are the property of the City; and all changes must be accomplished with City permits and approvals, which our contractor has obtained.
The cost of the first southeastern phase has been fully funded, and we expect the northern phase will also be funded shortly. An owners underwriting group for Phase Two (design and installation of guards plus addition of several new trees) is being assembled so that we will have all necessary funds on hand before starting the work.
The school is very supportive of our efforts, and the office of the Manhattan Borough Commissioner is coordinating carefully with us.
We have all been working assiduously on this project and are excited to begin the implementation. It will significantly improve the health of our aging trees, help the city with its water run-off problem and enhance the beauty of the block. Not to mention, this beautification project will increase the value of every building on the block.
We urge that any of you receiving this message who have not yet made a tax-deductible donation to the West 78th Street Block Association (a registered 501(c)3 charity) do so as soon as possible on our secure website (www.W78MBA.org) or by dropping off your check at 114 West 78th St. As a reminder, all contributions are tax deductible.
Please feel free to contact any of us with your questions or comments.
Kirkpatrick MacDonald, Gillian Mollod, Stuart Liebman,
Ed Rothstein, Joan Finsilver, Neal Dhar and Lee Bryant