Spring 2017 Report:
Phase One Work Will Begin Soon!
March 7, 2017
By: Directors of West 78th Street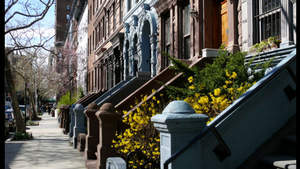 Now that everyone is convinced that winter is over, we are forging ahead on Phase One of our block beautification project. We will be planting new trees and enlarging tree pits, where possible, to conform with the Parks Department regulations that tree pits be at least 4' x 8' to provide additional rainwater for tree growth. The exact pit size and placement for each enlargement will depend on existing sidewalk pipes and maintaining at least 42" of clear passage for pedestrians.
We have a rough idea of which tree pits need to be enlarged and by how much, but this is subject to change once work is underway. Urban Arborists, our contractor for this work, is prepared to proceed this month, and we have enough money in the bank to start the initial phase.
The phases are sequenced because we do not know the final sizes of the tree pits and want to align all tree guards where possible. We are seeking to maintain a uniform alignment that will involve the use of Belgian blocks on the east and west of the guards. We expect the end result will be visually pleasing, thus improving the overall look of the block. Once Phase One is completed, we will move immediately to Phase Two implementation.
Our bank account has nearly $10,000 which we have raised from an initial underwriting group of 20 members of the Association. The purpose of this communication is to invite those we have not previously contacted to make their contributions ($400 per building initially) so that we will have money to prepare for Phase Two.
Contributions may be made by credit card directly on our website, www.78mba.org, or by dropping off a check made out to the West 78th Street Museum Block Association through the mail slot at 114 West 78th Street. Contributions made by individuals are fully tax-deductible since we are a registered and approved 501© (3) charity. We thank all of you who have already contributed and welcome hearing from those who have not yet.
Kindly contact us for further information or with any questions. We look forward to completing this fundraising initiative before reaching out to the larger rental buildings and schools on the block.
Kirkpatrick MacDonald, Gillian Mollod, Stuart Liebman,
Joan Finsilver, Neal Dhar, Lee Bryant and Ed Rothstein
DONATE NOW at www.w78mba.org