Mayor Bloomberg Hands Out Award to Al Leiter, Formerly of the NY Mets!
Monday, December 13, 2004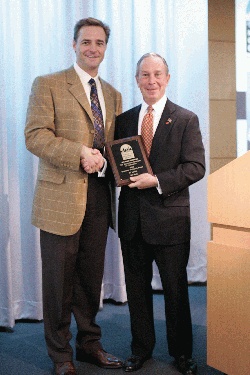 300 MCC Members and guests attended the 2004 MCC Business Awards Breakfast on November 19th.
Event included keynote speaker James J. Cramer, thestreet.com and CNBC's Kudlow & Cramer along with six business awards recognizing the achievements of NYC businesses. Presenters included Mayor Michael Bloomberg, Rob Walsh, NYC Commissioner Small Business Services, Tim Zagat, Zagat Surveys, Norma Kamali, Norma Kamali Designs, Stuart Suna, Silvercup Studios and Leslie Schweitzer, US Chamber of Commerce.
Business Award Winners

Business Outreach, Al Leiter, NY Mets
Business Growth, Howard Glickberg, Fairway Market
New Business, Lorrie Veasey, Our Name is Mud
WMBE Outreach, Marsha Firestone, Women Presidents Organization

International Business Award Winners
Small Business Award, Andy Salzer, Yoko Devereaux
Business Growth, Tony Wong, Mutlticultural Broadcasting
International Service Award, Ally Gunduz, Swiss Hub

In addition, MCC gave $10,000 to the Eleanor Roosevelt High School to support the college prep office and two Board Member of the Year Awards to Wendi Caplan, 1010 Wins and Martin Kleinman, Three Heads PR.
There were raffle prizes, goodie bags and lots and lots of great networking!