CRESLI/Viking Fleet Great South Channel Whale Watch
Offshore 51 hour trip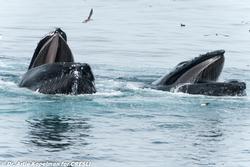 Organized by Arthur Kopelman
PO Box 54
West Sayville, US 11796
6313196003 (voice)
president@cresli.org (email)

Date / Time
Sunday, August 11, 2019 to Tuesday, August 13, 2019
6:30 PM to 10:30 PM
Description
This trip targets the rich feeding grounds of humpback, finback, minke, North Atlantic right, and sei whales in the waters of the souther end of the Gulf of Maine (east of Nantucket, MA). We take about 10 hours to get to the whales; 30 hours with whales; and 10 hours back.
August 11-13, 2019

(51 hours)

Great South Channel

Leave Montauk at 6:30 PM on August 11, 2019 and head to Martha's Vineyard (MV) to pick up (and drop off) passengers. We expect to arrive at Oak Bluffs in Martha's Vineyard at around 12:30 AM on 8/12, we leave MV at around 1:00 AM and proceed to the GSC.

We should reach the whale grounds around day break, spend the next 24 hours amongst the whales and birds of the GSC.

The following morning, we will have the option of either remaining on the whale grounds in the Great South Channel, or heading Stellwagen Bank National Marine Sanctuary. The vessel will ultimately depart Martha's Vineyard at 4:30 PM on 8/13 and return to Montauk at 9:30 PM on 8/13/2019.